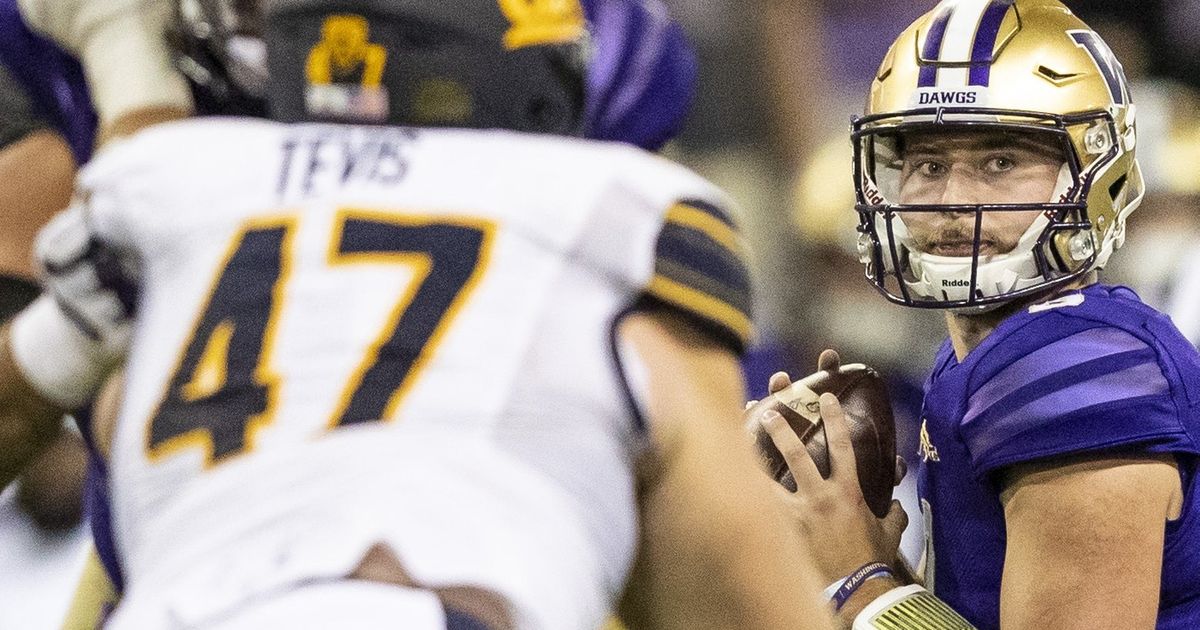 UW Football Notes: Attacking Fighting Second Half, Sean McGrew's Growing Role, and Injury Updates
[ad_1]
On Monday, Jimmy Lake was asked to judge the strips.
Two days earlier, the University of Washington football team's offense had scored four consecutive drives – three touchdowns and a field goal – in a 31:24 overtime win over California.
Thereafter, the same offensive stalled on five consecutive drives – with a three-and-out, a lost fumble, a missed field goal, and two more three-and-out – while scoring 62 yards and wasting 14 efficiently in 15 games . Lead point.
So what caused the husky violation to spontaneously become infected?
"The important thing was that we didn't convert in third," said Lake after citing penalty problems and pushing Kamari Pleasant's fumble back. "We have to act better. We have to have better details and win these one-on-one battles. Cal did better on these details on the critical third downs where we couldn't convert and move the chains. Because only in the extension we got back into the red zone. "
Some of these execution issues could fall on Redshirt freshman quarterback Dylan Morris. He completed 19 of 32 passes for 234 yards and two touchdowns, but only went 3 of 9 for 47 yards (with his last five passes incomplete) in the last five drives of regulation.
Although Morris – who gave up five interceptions in his first four games – avoided costly turnovers, he may have thrown the ball away too many times instead of trusting his progress.
"During the game he did a really good job making his progress and getting the ball where we needed it," said Lake. "You saw those explosive plays we had at the beginning of the game, moving the ball and putting points on the board, and those touchdown throws.
"But there were definitely some games in the second half where we – starting with me – have to make sure we give him a good plan to get the football to a point of sale for positive yards and profit. Unfortunately, we did not succeed. … We definitely can't have as many (ejectors) as we did in the second half. We can't have that. That's one of the things we need to get better at. "
Of course, offensive coordinator John Donovan's prompt to play didn't always put Morris in the position to be successful. In third and second place from UW's 33-yard line on his final run of regulation, Donovan picked an inexplicable low shot at wide receiver Jalen McMillan that fell unsurprisingly incomplete.
"We had to move the chains over there and that's up to me," said Lake of the call to play. "We have to make sure we have a game ready to get two and a half meters to move the chains and hold the ball."
McGrew eArn's extended role
UW's clumsy offensive was saved in overtime by Sean McGrew, the six-year-old senior, who took a direct snapshot and bouldered over the goal line from 2 meters to give the go-ahead.
McGrew – who didn't scratch the rotation in UW's losses to Montana and Michigan – led the Huskies with 16 carries, 53 rushing yards and two touchdowns against Cal.
He led in other ways too – recently he was appointed to the Huskies' leadership council.
"He did a lot (to deserve this honor)," said Lake. "There are certain points in the year when we say to the guys, 'Hey, this will be your part for the team. You may not like it now, but you need to keep working to improve your role. ' And that's all Sean has done since spring football. He probably didn't have the reps he wanted while running back, but he just kept working and continued to show that he needed to be on the soccer field. He showed us to special teams. He showed us on the offensive. He came to work every day with a smile on his face and was ready to work where it was needed.
"So that's one of the main reasons we called him to the Board of Directors. He showed how a teammate should behave if you might get information in a role that you disagree with. "
Now McGrew's role is expanding – and he scored two touchdowns from the Wildcat lineup last weekend. After the game, the 5-foot-7 jam expressed a desire to eject the wildcat as well.
Which, according to a seemingly sarcastic Lake, is a definite possibility.
"He can throw," said Lake. "He can turn it around, so you (opponent) better worry. He could pass it on. He can throw it. He could surrender it, throw it back, let it go. You can print everything. I want our opponent to read all of this. He can do anything."
Injuries galore
Speaking of running backs, sophomore Richard Newton didn't play against Cal after leading the Huskies with 39 carries in their first three games.
Lake said Newton – who spent the game in uniform and on the sidelines – was an emergency option.
"He was definitely beaten up," said Lake. "He went nuts and we had to restrict him during training all week. It would be more of an emergency option for us on Saturday. And so we luckily got away with a win and didn't have to put him in danger. He'll be fine this week. "
Likewise, Lake said nickel back Brendan Radley-Hiles – eliminated in the second half of the Cal game with an obvious injury – will "likely" be back against Oregon State on Saturday. Outstanding cornerback Trent McDuffie, who missed the first game of his career last weekend with an ankle injury, stays "week after week".
Oh, and do you remember All-America Outside linebacker Zion Tupuola-Fetui – who went down with an Achilles tendon in April? Lake reiterated Monday that "ZTF" is well on its way to play in the 2021 season, despite declining to give a more specific schedule.
"It could be earlier (than late in the regular season)," said Lake. "He's doing great. I'm so proud of him. His work ethic, his attitude … he never misses a day of rehab. His body looks great. He's not on schedule, he's ahead of schedule like I mentioned at training camp. He's still on that 'ahead of schedule' mark. "
Extra point
Given McDuffie's injury and his dual roles as cornerback and punt returner, Lake was asked if he would ever consider putting his best players on special teams to protect their health. "We play our best players in special teams. It will always be like that, "he said. "(McDuffie) is a threat there as a returnees. We know that it affects the game plan of our opponents. We're trying to win football games. And our players know that, but the first question we're usually asked when the NFL scouts come over is, "Are there any special teams playing?" Special teams are a big part of the game and we value that very much. Our players fight to be included in special teams, from our starters to our backups. "
[ad_2]