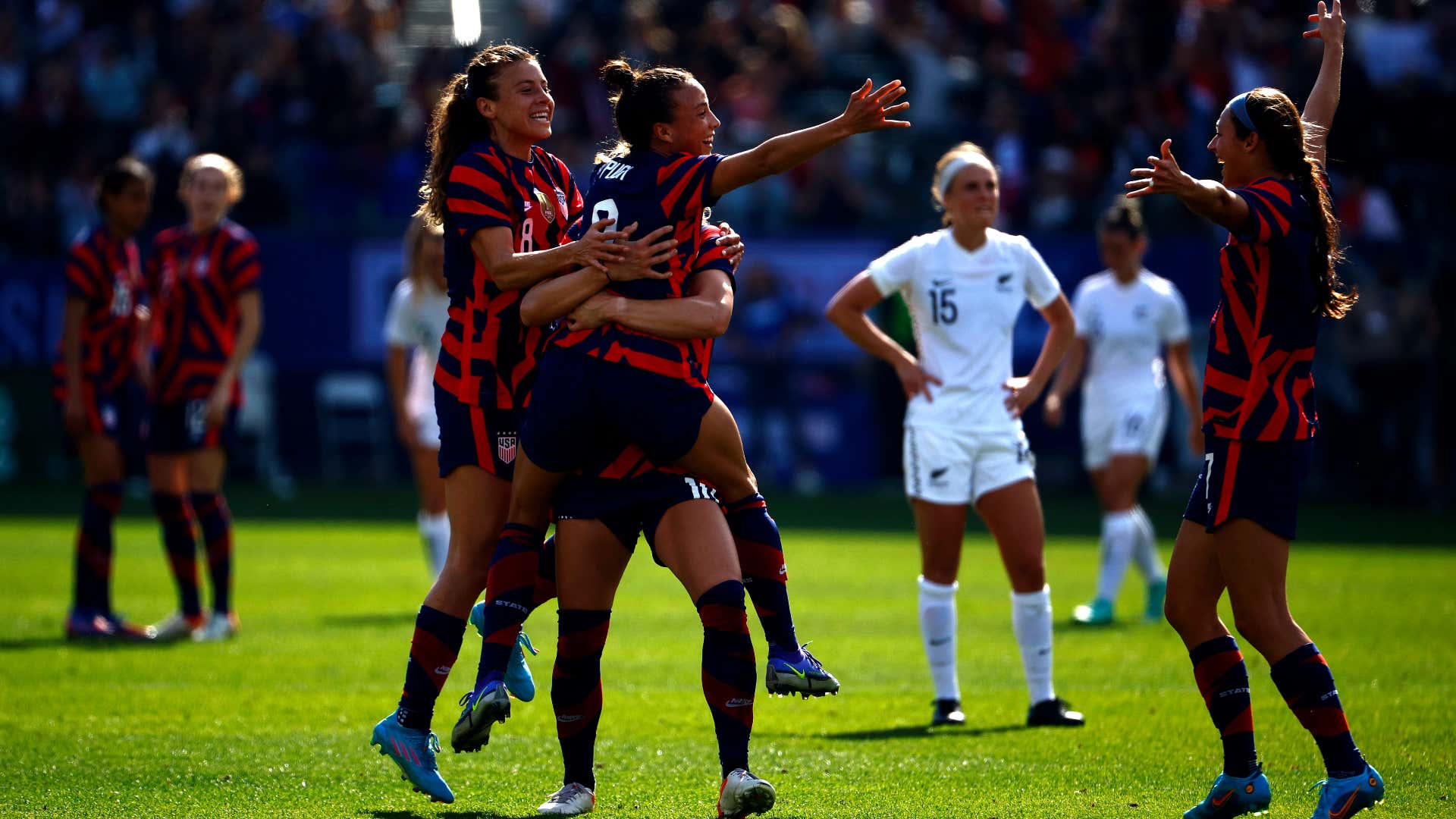 USWNT rebounds at SheBelieves Cup with support from generous New Zealand team
The US women's national team was looking for an offensive spark after Thursday night's goalless draw with the Czech Republic and found it on Sunday – with a great assist from New Zealand.
The USWNT benefited from an unprecedented first-half hat-trick from own goals from Meikayla Moore – whose 50th cap will be memorable for all the wrong reasons – as they powered to a 5-0 win in the second of three SheBelieves Cup games.
The Football Ferns put up a far more incoherent defensive display than the Czechs, and the USWNT took full advantage as Sophia Smith and Midge Purce caused particular chaos on the flanks.
Vlatko Andonovski will be happy to see his side bounce back ahead of Wednesday's tournament final against Iceland, but he will still have much to analyze as he seeks to win the SheBelieves Cup.
Here are three observations from Sunday's game at Dignity Health Sports Park
Moore's terrible, terrible, no good, very bad day
Prior to Sunday, the USWNT had never in its entire history benefited from three own goals in a game. Against New Zealand it happened in 38 minutes and all were scored by the same player.
Ouch.
When Moore was removed in the 40th minute it could have been read as an act of mercy from New Zealand coach Jitka Klimkova, but it seemed a bit harsh to shed light on the defender's mistakes when she could have been removed more quietly at the break .
Of course, no own-goal hat-trick happens in a vacuum and it has to be said that Moore was blameless on the second and all three were the result of extremely dangerous serves from the US attackers. It wasn't Moore's fault that the American attackers had free rein on the flanks for most of the half.
Ironically, Sunday should have been a day when Moore, who by the age of 25 has already had half a century of international caps, should acknowledge a major achievement in a tougher day in her career.
Hatch makes an instant impression
A minute. Four minutes. Six minutes.
That's how long it took Ashley Hatch to find her back from the net in her three most recent US appearances.
The NWSL Golden Boot winner put herself in ninth place for another minute by scoring a header against New Zealand in the 51st minute after coming on as a half-time substitute.
Hatch was playing only her fifth USWNT game but the 26-year-old seems timely to bring everything together for club and country, with Andonovski appearing open to a generational change in his team's attacking positions.
Another NWSL star is Sofia Huerta, whose cross led to an own goal in the first half and whose cross set up Hatch's header in the second half.
The goalkeeper competition is in full swing
On Sunday, Alyssa Naeher started for the USWNT for the first time since last summer's Olympics, and the goaltender returned to a different situation from the one she left in Japan.
Casey Murphy had started the last three US games in goal and has been hugely impressive by showing Naeher may have a fight to retain the starting role, especially if she is unable to stay healthy.
Naeher wasn't tested much against New Zealand but was solid when challenged. How Andonovski is handling his goalkeeping situation, with NWSL star Aubrey Kingsbury also on his list, will be a story worth watching.