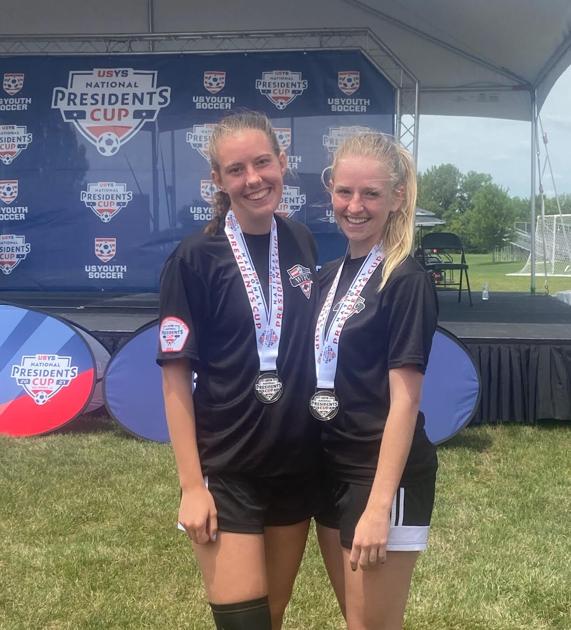 Noss competes in Nationals with WVFC | Sports
[ad_1]

KINGWOOD – Preston High School alumna Megan Noss joined West Virginia FC's girls' soccer team in 2002/2003 last week to compete in the National Presidents Cup in Des Moines, Iowa.
Both she and former Big 10 conference colleague Tricia Lemasters (2021 Fairmont Senior Graduate) joined the team and played against Utah Avalanche in the national championship game, where the team finished second.
Noss and Lemasters currently play for the FC Alliance on the 2002 girls' team, but they helped represent the state of West Virginia and make history for the state's youth football programs.
History was made by several West Virginia soccer teams in June when three teams won the Eastern Regional Presidents Cup for the first time to contest the Iowa National Presidents Cup. West Virginia FC 2002/2003 Girls and West Virginia FC 2007 Boys made the trip to Iowa. Unfortunately, FC Alliance 2007 Girls had planned a previous trip to Portugal and could not accept the offer.
The WVFC girls started their national tournament with a 3-2 win over Chicago. This marked the first time in history that a West Virginia team won Nationals. The girls then followed with a convincing 5-0 win over Knoxville and secured a spot in the national championship.
The WVFC boys also performed well as they positioned for third place for the game, but the game was canceled due to bad weather.
Noss is currently part of the West Virginia Wesleyan College women's football program. She also received numerous awards during her career at Preston. During her senior year, she was named to the second team in the Coaches All-State, second team in the West Virginia Sports Writers Association, first team in the All-Big 10, and first team in the All-Region. Her two all-state picks made her a consensus all-stater.
As a junior, Noss was named to the second team of the All-Big 10 and the second team of Region I, in the second year she was an Honorable Mention for the All-Big 10 team and as a newcomer she was named to the MaxPreps and National Soccer Coaches Association of America West Virginia Player of the Week, September 19-25, after scoring five goals in two games against East Fairmont and Fairmont Senior.
[ad_2]