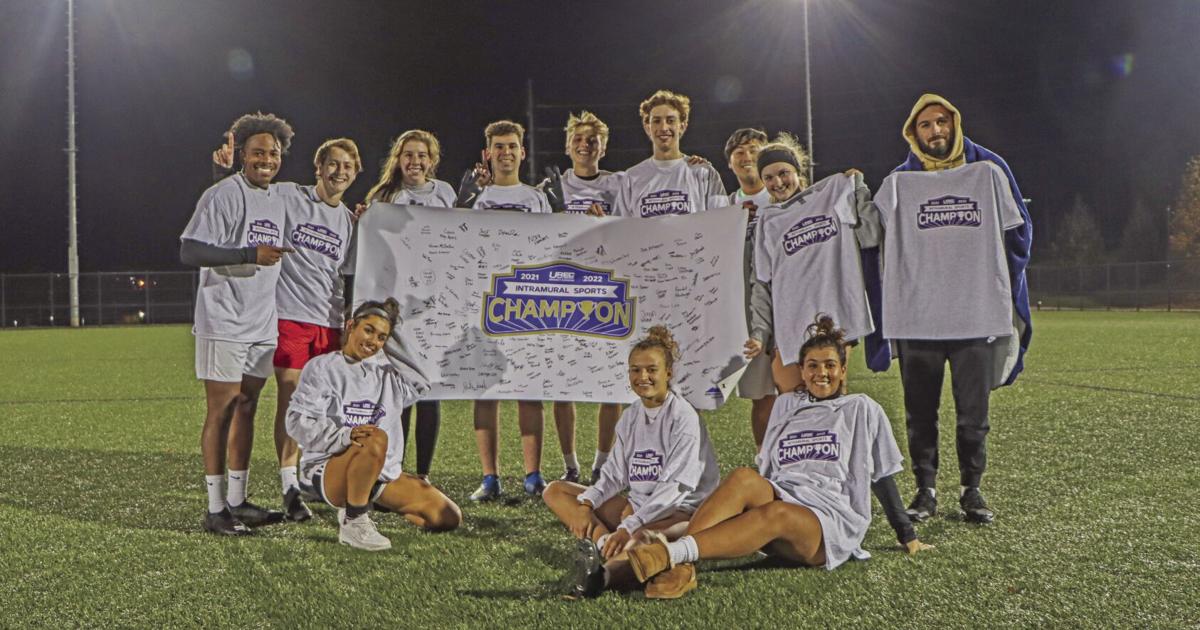 Intramurals in a COVID-19 World: Exploring Demographics and Trends at UREC | Sports
There are six tally sheets on Addie Merlo's whiteboard.
The sophomore industrial design project group follows the nights they spent at the Memorial Area's Studio Center during the Fall 2021 semester. Merlo was in the building every night after 3am in early December, plus once after 5am and once after 6am, in addition to her sixth separate night since August — still two weeks shy of her most recent project's due date.
If it weren't for intramural volleyball, Merlo said, their nighttime habits would intensify.
"It would probably be more work time, I'm not going to lie," Merlo said. "It's more like forcing myself to take a break from work."
Merlo, who played volleyball for most of her childhood, said she wants to get back into the sport without it being an overwhelming commitment of time. She prefers the participatory nature over "self-induced" exercises like lifting weights.
Recovery after the pandemic
Internal sports bring a sense of normality to JMU students as the program continues to adapt to the ever-changing COVID-19 restrictions, said Aaron Combs, associate director of programs at the University Recreation Center (UREC).
Participation in university sports at JMU has reciprocated this. According to statistics emailed by Shannon Tumelty ('14), associate director of intramural sports and programs, the fall semester had 3,068 unique participants. Daniel Chandler ('19), interim coordinator for JMU's intramural sports and youth programs, said fall attendance is on track to "match, if not break, pre-COVID numbers [them]." The last school year, 2018-19, not disrupted by the pandemic saw 4,939 "unique participants."
'Unique competitor' numbers mean that each person who plays sport on-site is counted once, no matter how many different sports they play; even if they play five sports, they are only counted once. On the other hand, a "competitor" is counted three times if he/she participates in three sports in the course of a year. The one-year peak of JMU's intramural participation over the past four years was 7,165 individual participants in the 2016-17 school year.
Fall 2021 attendance is consistent with pre-COVID-19 numbers as it has been difficult to maintain social and physical well-being throughout the final year of school, Combs estimates, combined with the itch to peer connection in an environment 'full of excitement' to revive.
For Justin Peterson, a sophomore engineering major who played volleyball with Merlo that fall, the sport he'd never played in his life except in high school gymnastics class became a connecting point with his STEM classmates, himself in just…funny scenarios.
"We're all prone to it [the] Math and science and all that stuff, but then I found a group of people in my major who all play volleyball," Peterson said. "It's really interesting to see how this community of engineers can also play volleyball as a group of friends."
gender participation inequality
In the 2021 fall semester, women accounted for 24% of freshmen, 27% of sophomores, 22% of juniors, and 23% of seniors, respectively. The juniors saw the highest total number of female participants at 237, although they had the lowest percentage of female participants — the class also had the highest participating student demographic at 1,079 participants. Men made up the other about three quarters of the participants.
This inequality in gender participation does not do justice to the mission of university sports at JMU. Combs said that 100 percent participation in intramural sports is the long-term goal because UREC staff want every student to be active in some way, or as he said, "motivate Madison to exercise."
"UREC generally strives to offer a large number of different programs to get everything [of] JMU is kind of involved," Combs said. "But specifically within the context of collegiate sports, the vision is to increase collaboration with dormitories, sororities and other cross-campus partners to educate and inspire more students to participate in the diverse opportunities that collegiate sports offers."
While Merlo said the intramural environment is welcoming – as her volleyball team is made up mostly of her friends – there is potential for more female involvement. Greater awareness that intramural facilities exist is the #1 way to do this, she said.
The in-house sports with the highest number of cases at JMU were outdoor soccer (1,421 individual participants), flag soccer (1,030), and sand volleyball (473). Women's participation in season-long intramural leagues fell to 17 in floorball, but peaked at 372 women in outdoor soccer.
Among those sports, sand volleyball saw the highest female participation with 51% of individual sports participants, followed by 28% in outdoor soccer and 8% in flag soccer, according to statistics from Kristin Gibson, Associate Director of UREC Services. Combs said the goal is to increase overall female participation from 27% in the fall to 30%, which he believes would be double the total number of female participants in the fall.
According to Tumelty, women-only leagues are regularly offered, such as through sorority leagues. But sometimes it comes down to the fact that not many women sign up, either due to a lack of interest or because some prefer another UREC activity like a fitness class. Senior Gabi Garcia, JMU site manager for intramural sports, said the women's three-on-three basketball leagues are among plans to increase community participation.
More intramural sports could be added as participation grows, Combs said. There have been requests from intramural attendees to add intramural field hockey and tennis, but Tumelty said staff doesn't want to overwhelm the options or pull students in too many different directions. But as UREC staff receive requests for reallocation of resources and see national growth trends in specific sports to allow for expansion – which has historically enabled the addition of four-a-side flag football and battleships – the addition of programs will more doable, Combs said.
With JMU's internal staff filling up again after the pandemic, full seasons of six to seven weeks were possible this fall. One of these ways specifically sought to promote inclusion: mixed leagues.
In Merlo's four-on-four coed volleyball league, she said every team must have at least two men and women on the court at the same time. For Merlo's team, which only had one other woman constantly showing up, this meant staying on the pitch the entire game while her three male teammates rotated amongst themselves.
Merlo said her team was unaware of this rule for most of the year, but later in the season the same-sex rule was more strictly enforced by UREC staff.
"Of course it would be better to get more girls to just feel like it [intramurals are] something they could or want to do," Merlo said. "I feel like this also just stems from the general issue with gender norms and sport and not necessarily intramural ones per se."
Accommodation for the disabled
Inclusivity in JMU university sports goes beyond gender – goalball was offered in the fall. Designed for the visually impaired, Torball consists of a ball with noise makers inside and a playing field lined with taped wires to allow a visually impaired player to sense how far they are on the field. The goal is to get the ball into what Tumelty describes as a longer looking football goal.
Goalball isn't just for the visually impaired. Tumelty said anyone could play; UREC offers glasses that simulate a visual impairment. According to Tumelty, many people who want to learn how to deal with disabled people in their profession take part in it – similar to wheelchair basketball, which is also offered as an in-house sport at JMU.
In the fall, there were about 10-15 torball and wheelchair basketball equipment "uses" or reservations in which a group of people rented torball or wheelchair basketball equipment to play recreational games.
JMU's internal sports staff hopes to increase goalball participation and awareness by placing the court in a highly visible location where there is a lot of foot traffic in UREC.
"We're trying to position it in a part of UREC that people can walk by and see," Tumelty said. "If they don't register for it this semester, maybe they can register for next semester."
Groups can rent the space for their own event, but UREC also hosted organized tournaments. According to Tumelty, as of Nov. 29, there were 57 wheelchair basketball tournament participants — seven teams of at least five people — and three goalball teams registered. UREC sponsors one or two disability sports tournaments each semester and in the spring various disability sporting events are held during Disability Awareness Week, which this year takes place on March 21-25.
Short length, great popularity
Tournament-like games with little or no playoffs were a big hit during the fall semester, Garcia said. The tournaments were introduced during the 2020-21 school year amid the pandemic, and many students are drawn to them, Garcia said, because tournaments don't involve a semester-long commitment and short postseasons create a relaxed environment. Cornhole was introduced in tournament style last year; This fall, UREC tried its hand at a four-day pickleball event, among other tournaments.
A more casual sports atmosphere helped Peterson reignite his love of sports. He said he started to lose his affinity for the sport when he signed up for his high school football team — describing some of the players as overly competitive, "terrible people" and "idiots" who messed up his idea of ​​the sport.
But intramural volleyball hit a Goldilocks point for him.
"We all understood that we were just playing for fun," said Peterson. "It wasn't that it wasn't as competitive, but it wasn't just a game for fun. It was like a mix of both and it was really a great experience."
With more participants in intramural sports, more students can experience what Spencer Cavan, a research assistant in JMU intramural sports and programs, calls the "magic" of intramural sports.
"We all want to win," Cavan said. "But at the end of the day you go and shake hands with the other team, acknowledge when someone takes a good shot, acknowledge when someone does something good on the field even though it's your opponent. It's not divisive; There are so many divisions in the world while boarding schools bring people together."
Contact Grant Johnson at breakcopy@gmail.com. For more coverage, follow the Sportsdesk on Twitter @TheBreezeSports.