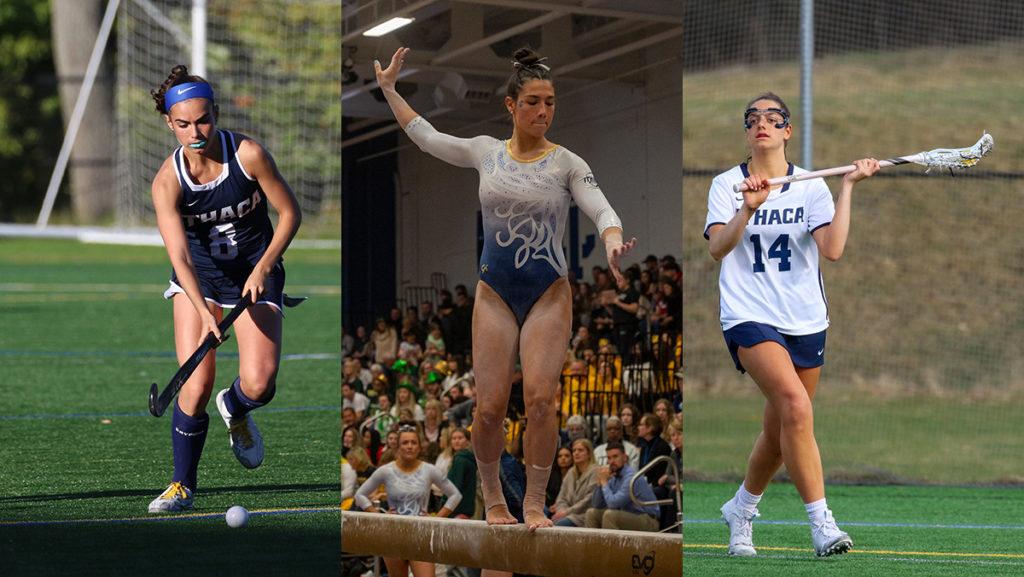 IC Alumna Donates Over $600,000 To Women's Sports
All Ithaca College women's track and field programs are now endowed — meaning they've increased funding to provide the necessary resources for the programs — after an anonymous alum donated over $600,000 to 10 women's teams.
A 14.4 Notice stated that funding for the college's women's field hockey, golf, gymnastics, lacrosse, soccer, softball, swimming and diving, tennis, track and field, and volleyball programs was evenly distributed. This legacy creates endowments for each of the 10 teams to complement the 15 endowment funds already dedicated to the college's teams and athletic facilities. While the alum who made the donation has been left anonymous, the statement notes that she earned a degree in physical education in 1942.
"This is an incredible opportunity for Ithaca College Athletics and for our women's athletic programs that have not previously had foundations," Susan Bassett '79, associate vice president and director of the Office of Intercollegiate Athletics, said in the announcement. "The generosity and foresight of this one alumna is having an immediate transformative impact on the success of these programs for eternity. I couldn't be more grateful or pleased."
The statement said each team's head coach will work with Bassett to determine the best way to use the funds. There are also currently endowment funds that benefit the college's wrestling, men's and women's crosses Country, football, men's lacrosse, men's and women's basketball, men's club rugby, men's swim and dive, baseball, crew and men's soccer teams. The announcement included thanks from gymnastics head coach Rick Suddaby and women's soccer head coach Mindy Quigg.
"The generosity and vision of the woman behind this gift is truly amazing," Quigg said in the announcement. "This timely gift is greatly appreciated on many levels and will have far-reaching implications for the development of countless bombers."
The announcement also encouraged people to donate to the athletics programs on Ithaca College Giving Day, which is scheduled to take place on April 26.
"Securing endowments is a priority for Ithaca College and for the Department of Athletics, and we are truly grateful for this extraordinary and generous gift," Wendy Kobler, Vice President for Pphilanthropy Ecommitment, the statement said. "Our alumna recognized the importance of supporting women's athletic programs and their leadership supports IC's core values. In part because of this gift, future generations of student athletes will benefit from higher standards of performance."