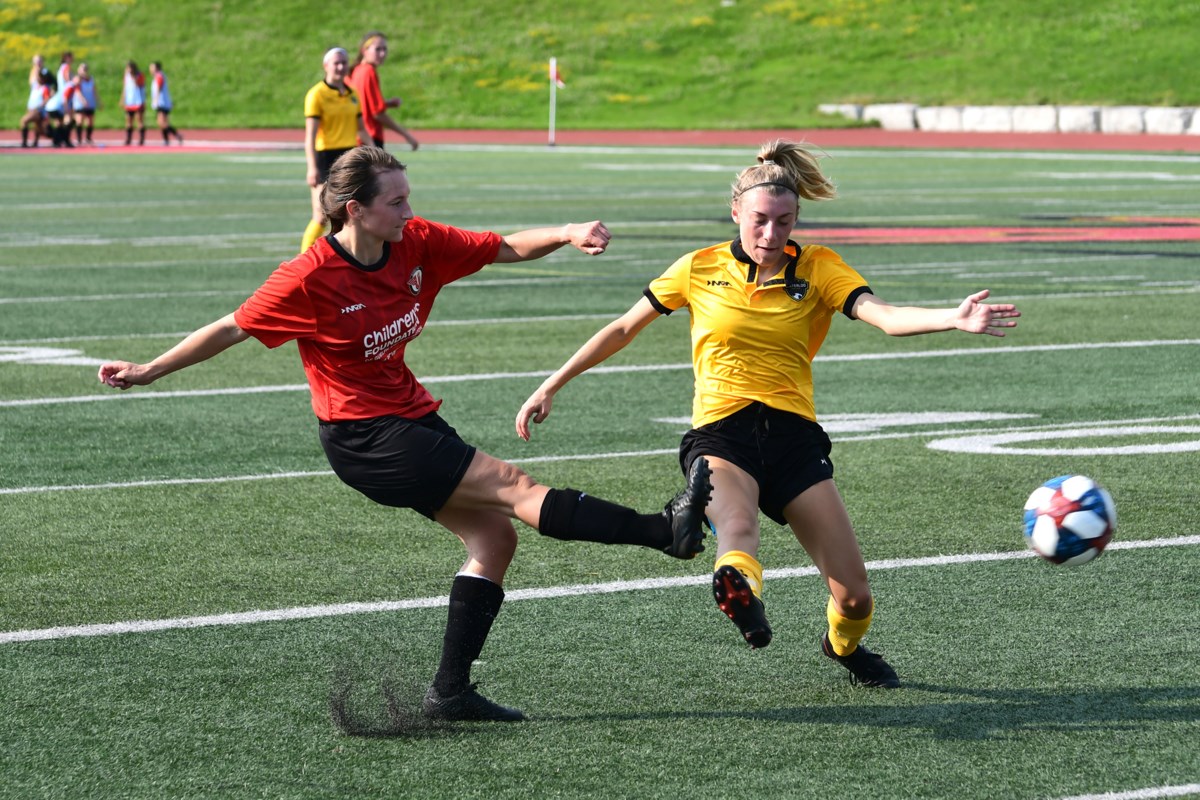 Guelph Union looking for a big season in the province's women's football scene
The club, who will field two teams this season, opened their season in the Premier Division with a 1-0 win on Sunday
Guelph Union couldn't wait to open their second season in League1 Ontario women's soccer.
"I'm so excited and excited," said coach Onkar Dhillon. "And I'm really happy for the players and the staff behind the scenes, because we've been working around the clock since the end of the Gryphon season in mid-November to prepare for it. Countless things happened behind the scenes."
The side opened their season with a 1-0 win over Darby FC at the Alumni Stadium on Sunday. Tessa Ladhani had the goal and Elizabeth Brenneman had the shutout.
Union won its division title in its inaugural season last year, but cannot defend that title as that division no longer exists. It was only done so that the teams, heavily staffed with players who would compete in varsity football, had a chance to play a few games beforehand.
"It was mostly for varsity players to brush up before the varsity season and they went longer for the non-varsity players," Dhillon said. "It was a year-long thing, but they're all back together now. There is a top league, a reserve league and the U19 league. We will play in the top division and reserves, but we don't have an under-19 component because we're not a youth league."
It was a split caused by a pandemic, as lockdowns delayed the start of the season for so long that a normal spot could not be found before the school returned.
While last year's season didn't start until the end of July, this year it starts at the end of April and the regular season ends at the end of July.
Union will have two teams in L1O this season, and both will draw from a player pool of 40 or more players. Their site has 49 players on the list.
The flagship team will compete in L1O's Women's Premier Division, while the other team – dubbed U2 – will compete in the Women's Reserve Division.
The Reserve League's West Division kicks off against Whitecaps London on May 4th at the North London Stadium.
With the large pool of players, players switch up and down between the two Union squads.
The player pool has a large local contingent as it includes 12 players from Guelph and one each from Rockwood, Ariss and Puslinch.
It also includes 17 players who were with the University of Guelph Gryphons for the varsity game in Ontario last fall, at least four Gryphon grads and five who play NCAA football — Jordan Faveri (North Carolina-Wilmington), Abbi Morrell (McNeese State), Adaira Nakano (Southern Mississippi), Isabella Villaflor (Dartmouth) and Isabella Randall (Jackson State).
The NCAA players will not play with Union early in the season, and some of the current Gryphs or others on U Sports teams could miss the opener due to their college exam schedule.
"We always knew that was going to be the case because they wanted to start early and the idea of ​​that is very reasonable because it's going to be tight on the other side," Dhillon said. "The early start prevents us from including some of our NCAA players who aren't home yet, and some of our non-Gryphon players or other U-Sports players are still at their centers. We have some girls from St FX in Antigonish. We have some players from different universities. They'll probably arrive towards the end of April or maybe early May, so we'll run with a smaller compliment for the home opener, but again, the important thing is to bring them all in, train them, get them to understand how we're doing things want, and then boot them up in a safe way so that we can perform in the first few games.
While Union ramped up its training routine as the start of the season approached, it allowed its varsity players to train the way their varsities wanted them to. Of course, this has worked out well for the Union Gryphons as the coaching staff is the same except that Dhillon is primarily responsible for the Union workouts. Gryphon head coach Shayne Campbell is Union's director of football and Elise DeDecker is assistant to the Premier squad and head coach of U2.
"We have a player pool of 40 players and they train as one and work as one," Dhillon said. "All of their goals are aligned as one. In the middle of the week we have a game assignment. You play with either U1 (the Premier Division team) or U2. There are many reasons for this. It could be loaded. It might be right where they are in their development cycle. It could be where they are in their playing ability, their age. A lot goes in there."
However, players could be moved between U1 and U2 depending on the specific situations of each week.
"Our idea is that you could see a lot of movement," Dhillon said. "You might see some mainstays on the first team and some mainstays on the second team. The idea is that there will be movement in between for many reasons, even just to show off, to try different combinations, to give girls opportunities and that's the philosophy of what we want to do. We could pick 20 girls and go, but we wanted to pick 40 girls and really roll as a union."
U1 will play a 19-game regular season as they have to play every team in the league once. They play ten home games, eight of them on Sundays (either 3 or 4 p.m.) and two on Thursdays (9 p.m.). It will use the Alumni Stadium as its home stadium.
Three of the team's first five games are away and then three home games are played in a row.
U2 will play a 12-game regular season, with the first three games played away, before hosting their home game on May 27. U2 will play their home games at the Gryphon Soccer Complex, with five home games scheduled for Friday night and the other on a Thursday night. Playing time for all six home games is 9 p.m.
With L1O moving to a three-division format with promotion and relegation between divisions in 2024, Union will be looking for a strong record this season as the team's records this year and next will determine which division they're placed in will. Next year's record will count for more than this year's record.
"We aim to operate at the level of a Premier League side and we will start doing that from this year, be it on the pitch, in technical operations, in our matchday operations and in our marketing and back-of -House business operations," Dhillon said. "We want to play at the level of a Premier League team and believe the rest will take care of itself on the way to 2024."