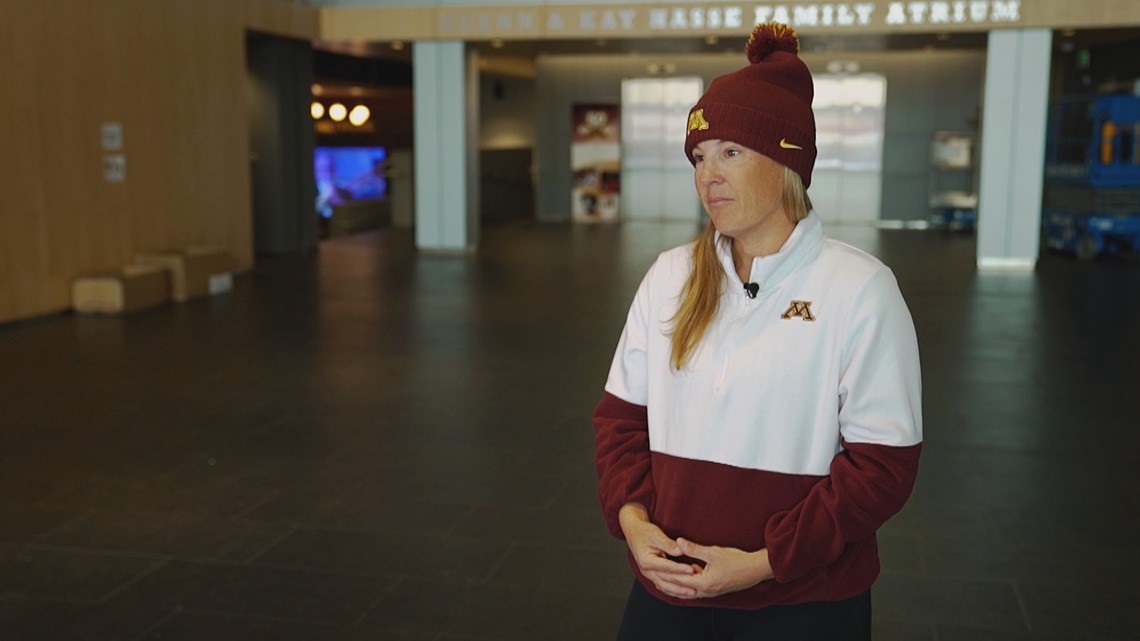 Gophers Coach Appointed to US Soccer Safety Task Force
UMN Head Women's Soccer Coach Erin Chastain is serving on US Soccer's new security task force to fix the league's systemic failings in protecting its players.
MINNEAPOLIS, Minnesota — A damning report came out in early October that found systematic abuse and sexual misconduct in women's professional soccer.
The independent investigation into former US Attorney General Sally Yates was commissioned by the US Football Association.
The Yates report said: "Our investigation has uncovered a league in which abuse and misconduct — verbal and emotional abuse and sexual misconduct — has become systemic, involving multiple teams, coaches and victims. Abuse in the NWSL is ingrained in a deeper culture of women's football, starting in the youth leagues, which normalizes verbally abusive coaching and blurs the lines between coaches and players."
In response to the report, US Soccer announced the federation's new Participant Safety Taskforce in early November.
Mana Shim, a key figure in the National Women's Soccer League (NWSL) abuse investigation, is serving as the taskforce chair. Shim reached out to Erin Chastain, the University of Minnesota's senior women's soccer coach, and invited her to join the taskforce.
"I think I've obviously seen the turmoil that US soccer and professional soccer in particular have been going through and I've been at it for a very long time," Chastain said. "I think if I'm going to be part of the systemic change that we need, I have to be willing to serve. So a huge responsibility, but also something that I think is worthwhile and really important."
According to a US Soccer press release, "The taskforce is tasked with coordinating and collaborating on behavioral policies and procedures from the youth level through the professional leagues and senior national teams."
"Obviously the Yates report was heavily focused on the professional ranks and that's obviously something we'll be targeting, but power struggles in youth football are the beginning. I think the culture of youth sports and how important scholarships are and how important they are in the elite team for youth, I think puts us in a position where some of these athletes are vulnerable and at the mercy of a coach who is theirs "Could abuse power," Chastain said. "I think part of my role will be to offer advice on standards that we need from a young age so that we can provide a really healthy environment for these young people to be able to play in sport to grow up."
Chastain mentioned that part of this will involve putting in place the proper standards for reporting potential abuse.
"So people don't get recycled about youth football or professionally if they don't do things right," Chastain said.
But Chastain said there will be challenges in holding people and organizations accountable.
"I think this is going to be really, really challenging and I think that's why this big group of 33 people is coming together on youth platforms, pro platforms, medical platforms and legal platforms so we can find the best way to take responsibility. I think that's something we've been missing and that's why we're where we are," Chastain said.
According to a press release, in the first quarter of 2023, the taskforce will work immediately to address the following priorities:
Developing an action plan to support the efforts of the Board's Yates Implementation Committee to implement the Yates Recommendations in all US soccer affiliates, including but not limited to youth clubs, other professional leagues and grassroots organizations;
Gathering best practices and cross-sport expertise related to safety policies, officer positions, education and training;
Identifying top concerns about the risks related to relationships with significant power imbalances (e.g. player-coach); and
Development of educational resources focused on identifying inappropriate behavior and reporting concerns that can be disseminated throughout the football ecosystem.
The Participant Safety Taskforce is one of several steps US soccer is taking in response to the report.
"I feel a tremendous responsibility to the sport of football in particular, to be a part of the change and to feel like I can play a part in it with the experience that I've had in the sport," Chastain said. "I also have two daughters who are involved in sports and so I think when I look at this I want to make sure they are in an environment that is meaningful and safe and that's really important to me."
The task force will meet for the first time on Friday.
Check out the latest local news from the sister cities in our YouTube playlist: