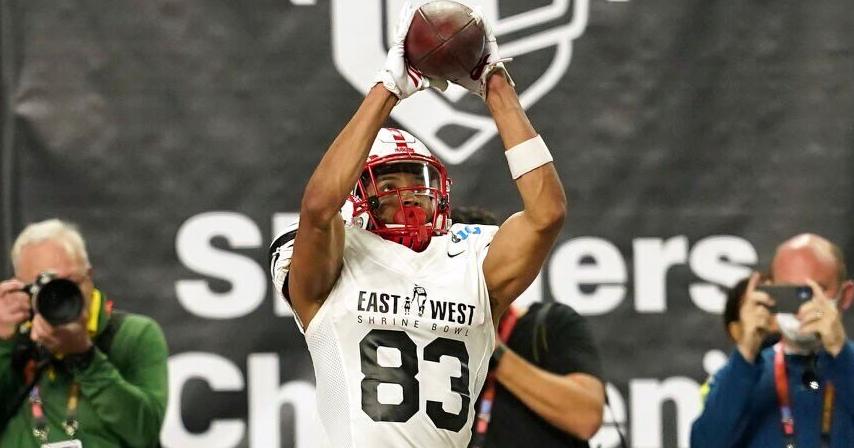 Former Montana All-American WR Samori Toure impresses in East-West Shrine Bowl | Montana Grizzlies
Former Montana wide receiver Samori Toure capped a week in which he caused a stir with two touchdowns in the East-West Shrine Bowl.
Toure finished the East-West Shrine Bowl with five catches for 32 yards and two scoring grabs. He was the only player on either team with multiple rushings or touchdowns in the longest-running College All-Star Game.
Toure's first touchdown came when he made a wicked spin move near the left touchline to shake a defender and dive into the end zone for a 6-yard touchdown.
He later scored a 17-yard touchdown catch on the right touchline by knocking out his defender in a single cover.
Before scoring those touchdowns, Toure threw a downfield block at the last defender to help former South Dakota State running back Pierre Strong score a 65-yard touchdown on a screen pass down the left touchline.
Toure's success at the Shrine Bowl wasn't just limited to the game. Throughout the practice week, he began drawing eyes.
Pro Football Network's Tony Pauline was impressed by Toure on the first day of practice on Saturday 29 January.
"If Rambo was the best receiver of the day, Samori Toure was a close second. He also ran exceptional distances and made several difficult receptions, particularly in lower field. Also, Toure worked as a punt returner."
Sports Illustrated's The NFL Draft Bible gave Toure big props after Monday's practice.
"Toure is a fluid and smooth player and has had a great week in Las Vegas. It started with the weigh-in, where he posted excellent readings, and progressed to fieldwork, where he demonstrated quick one-on-one tours to the defenders, solid footwork and distance running, and soft hands.
"After dominating FCS competition during his time in Montana, Toure finished his collegiate career strong at Lincoln and displayed a diverse overall game. The Portland native is a dangerous weapon with the ball in hand and has been used in finals, blows, counterattacks and in the second leg. Bottom line: get the ball in your hands and put that playmaker to work. If Toure keeps impressing and testing well, there's a very good chance he'll get his name on April."
NFL.com's Bill Smith wrote that Toure was among his six standout players after Monday's practice.
"Toure has flashed the ability to come out of breaks and break up quickly. It's shown in one-on-one and red zone drills, allowing Toure to pull in passes throughout sessions."
Pro Football Network's Cam Mellor also singled out Toure after Monday's practice session.
"Samori Toure looked good in one-on-one drills but even better in team drills. More specifically, he was great on the goal line. Toure scored a touchdown on an end zone fade, and he also ran sharp routes and presented soft hands. It was a great day for the former Montana/Nebraska standout."
Toure was a 2019 FCS All-American for Montana when he caught 87 passes for 1,495 yards, both UM records in a season, and 13 touchdowns. He finished his Griz career with 155 catches for 2,488 yards and 20 scores. He broke Randy Moss' playoff record for receiving yards with 303 against Southeastern Louisiana in the second round of 2019.
After the pandemic delayed UM's fall 2020 season, Toure just made the move to Nebraska, where he received honorable mention from the media as an All-Big Ten in 2021. In his only season in Nebraska, he totaled 46 catches for 898 yards and five touchdowns, he led the Big Ten and ranked 16th in the FBS with 19.52 yards per reception, and he was seventh in the Big Ten with 74.8 yards per game.
Frank Gogola reports on Griz football and prep sports for the Missoulians. Follow him on Twitter @FrankGogola or email him at frank.gogola@missoulian.com.