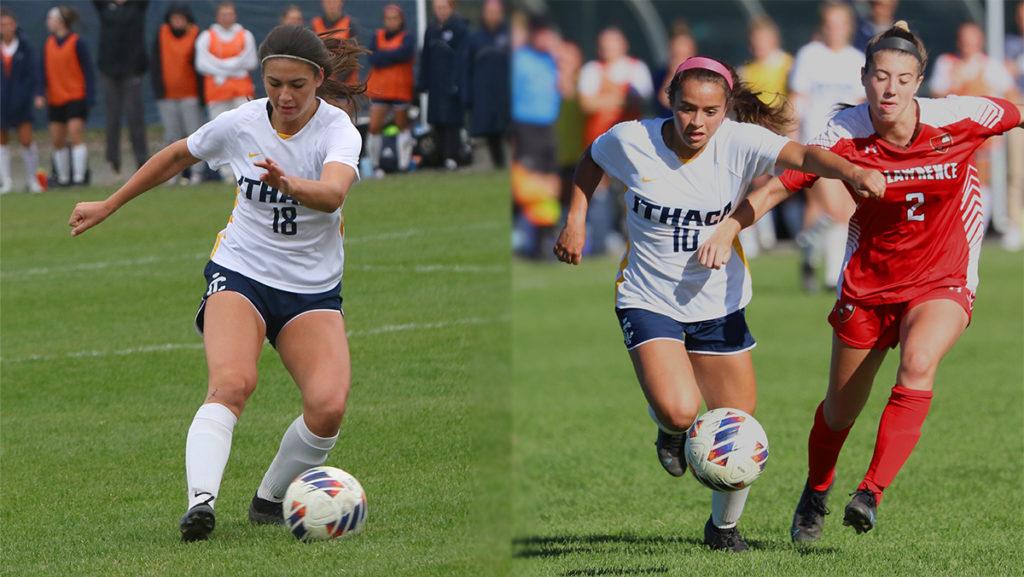 First-graders in women's soccer make a statement on the field
Freshmen Ali Amari and Kaelyn Fernandez made the most of their freshman seasons with the Ithaca College women's soccer team, taking on big roles early in the season and embodying the important team culture that contributes to a successful season.
As roommates and midfielders, the duo stand side by side on and off the pitch, learning and growing. Both Amari and Fernandez started in the Bombers' first game of the season, a 3-0 win over Elmira College on September 1. Fernandez has started in all but one of his games since then, scoring two goals and one assist this season. Amari has competed in 12 of the Bombers 15 competitions.
Head coach Mindy Quigg praised Fernandez for reading the game at a high level and being very productive for her small size in midfield.
"She brings a value of technical ability, tactical awareness and a really incredible pace to midfield," Quigg said. "We ask a lot of her because we moved her. She's played upstairs, she's played in attacking midfield and she's played in midfield, over the course of a game, she can do all three."
Before her college career, Fernandez said she was used to maintaining her midfield position. Her role for the bombers gives her more freedom in her positioning and helps her see the field better.
"I know what I want when it's me [in attacking positions]so when I'm in midfield, I have a better idea of ​​what my teammates want from me," said Fernandez. "It also gives me more knowledge about the game and how to play certain styles of play in different positions."
Amari has also expanded her game since joining the Bombers, playing as a holding midfielder – staying close to the defensive line and taking on mostly defensive responsibilities – behind or alongside Fernandez. A natural full-back, Amari moved to a more central position due to team personnel.
"She took to it right away and is getting better every day," Quigg said. "She's a really good one-on-one defender, very tenacious on the ball. SHe is fearless and loves to challenge people in the air and tackles hard well."
The transition has been a challenge for Amari, but she said having her team's support has made it easier to adjust to a new role.
"In the beginning I was a bit lost, but I had great resources around me," Amari said. "The girls have been so supportive and have helped me so much on and off the field."
Quigg said she was quick to notice the work ethic and values ​​that Amari and Fernandez brought to the team early in the season.
"They are very passionate about this sport," Quigg said. "They listen very well and don't take criticism amiss; They take it for what it is, which is an opportunity to get better, and that helps them tremendously in growing under the pressure of a program with high expectations."
Since they're roommates, Amari said they've also been able to form a close bond, which will benefit their in-game performances. Off the field, their relationship as teammates has given them something to bond over.
"We have really good communication and we can read each other on the field," Amari said. "It's so nice to have this support system and even going back to the dorms and talking about the games."
The close bond also extends to the large first-grader class, which has 14 athletes on the roster.
"We're all in this big transition together and it's been super helpful," Fernandez said. "I couldn't ask for a better group of girls to go through this with, and it makes me really excited for the next four years."
The freshman class has performed well on the field, contributing four goals and seven assists during the season.
"They're all good players and really good teammates," Quigg said. "They are really great women who love the sport and find ways to influence us and make us better every day even when they're not playing in games."
Fernandez and Amari said they immediately felt part of the team, and it made the transition to college life easier.
"I was a little intimidated when I entered my freshman year of college," Fernandez said. "All of our seniors and coaches made it a really easy transition. From the start we did everything as a team and they made sure we felt super comfortable."
The team lives up to Quigg's expectations of being hardworking, energetic and getting better and better as the season progresses. For Amari and Fernandez, their goal was to make a positive impact throughout the season, whether that be in practice, on the bench, or on the field.
"I had no expectation to start or anything like that; I wanted to train as much as possible and work hard," said Amari. "[I was] Taking advice from the older girls, seeing how things worked for them and how I could learn from them and just absorb as much as possible.
As they have cemented their role in the roster, they expect themselves to show up every day and be ready to make a positive impact in every game. They're still learning and adapting every day and understanding the game better when they play higher pressure games in the postseason.
"Something I've learned, especially in the closer games, is that you never check out mentally," Amari said. "We have to stay locked up for the entire 90 minutes because things can change in the blink of an eye."
The Bombers will start the first round of the Liberty League tournament on November 1st.