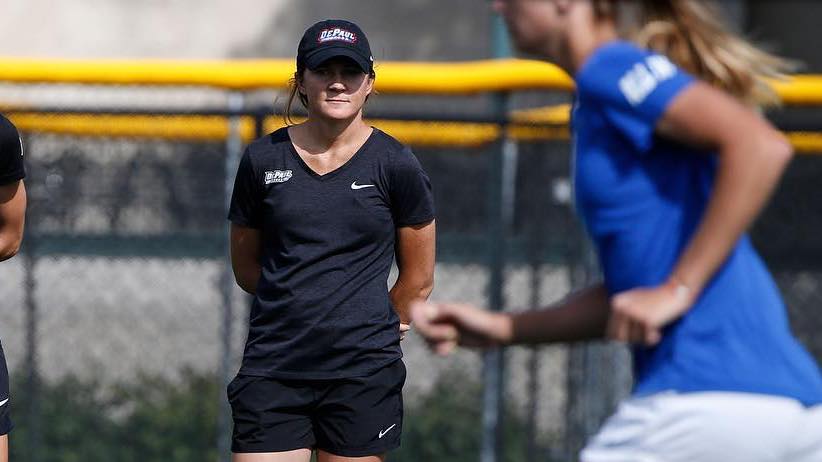 DePaul Women's Football Program appoints Michele O'Brien as head coach
[ad_1]

CHICAGO – DePaul University announced on Monday that Michele O'Brien has been named head coach of the women's football program. O'Brien takes on the lead role after serving as assistant head coach for the Blue Demons since 2014. She takes over as the fourth head coach in the 25-year history of the program.
"After doing a national search, I am proud to raise Coach Michele O'Brien in the role of head coach, "said sports director, DeWayne Peevy. "Michele is a phenomenal athlete, motivator, educator and tactician. With her tireless work ethic and passion, she stands for everything we want our student athletes to do. I am delighted with her vision for our program and how she is ready to DREAM BIG about our future. "
"I want to thank DeWayne, Jill Hollembeak and the rest of the recruitment committee for giving me this opportunity and believing in me, "said O'Brien. "I am very excited about the vision and future of DePaul Athletics. I would like to thank Erin Chastain for her support and for being a great colleague, mentor and friend over the past 12 years. "
O'Brien worked with former head coach Erin Chastain on all aspects of the program, including recruiting, scouting and player development. Even before he was named Associate Head Coach, O'Brien contributed to the recruitment path and helped the Blue Demons land the stellar Ashleigh Goddard and 2013 All-BIG EAST third team defender Rachel Pitman from England.
"I would also like to thank the rest of the sports department for their support and look forward to working with them in my new role," said O'Brien. "We have a great group of young women with a lot of potential and I look very much forward to developing them as we work towards our goal of being a championship program."
The New York native was named associate head coach in May 2014 after leading the Blue Demons to the BIG EAST Conference tournament in four of their first five seasons at DePaul. She was instrumental in helping DePaul advance to his first BIG EAST title game in 2013 and secure a spot in the NCAA tournament.
In 2014, O'Brien was instrumental in leading the roster to a program-best 16-1-4 overall record, which was the fifth best win rate in the country. DePaul set a school record with an unbeaten streak of 20 games and was one of only two programs (No. 1 UCLA) to go undefeated at the end of the regular season. The Blue Demons achieved their highest national rank when Soccer America placed them in 7th place.
O'Brien joined DePaul in 2009 as an assistant coach while completing her playing career with the Irish national team. As a player, O'Brien helped lead the Irish team to the 2011 European Championship.
In addition to her national team experience with Ireland, O'Brien played seven seasons in the W-League of the United Soccer Leagues and played with Great Britain for Arsenal Ladies Football Club. Arsenal, the UK's most successful team, have participated in world-class events such as the European Cup and the FA Cup.
In the USL she played for the Long Island Rough Riders and for the New Jersey Sky Blue. O'Brien retired from competitive football in 2012 after playing internationally for 10 years.
O'Brien served as an assistant coach at Columbia University (2005-07) and was an assistant at New York University (2004-05). She played collegially at Florida International University (1998-2001) and was two-time Sun Belt Conference Player of the Year. She also won two awards for the first team All-Sun Belt Conference and was twice a selection for the All-Sun Belt tournament. O'Brien graduated as the FIU's all-time leader on Shots, Goals and Points.
O'Brien and her husband Blair Banwart, who works for the DePaul Athletics division, has a daughter, Addison, and a son, Wyatt.
[ad_2]