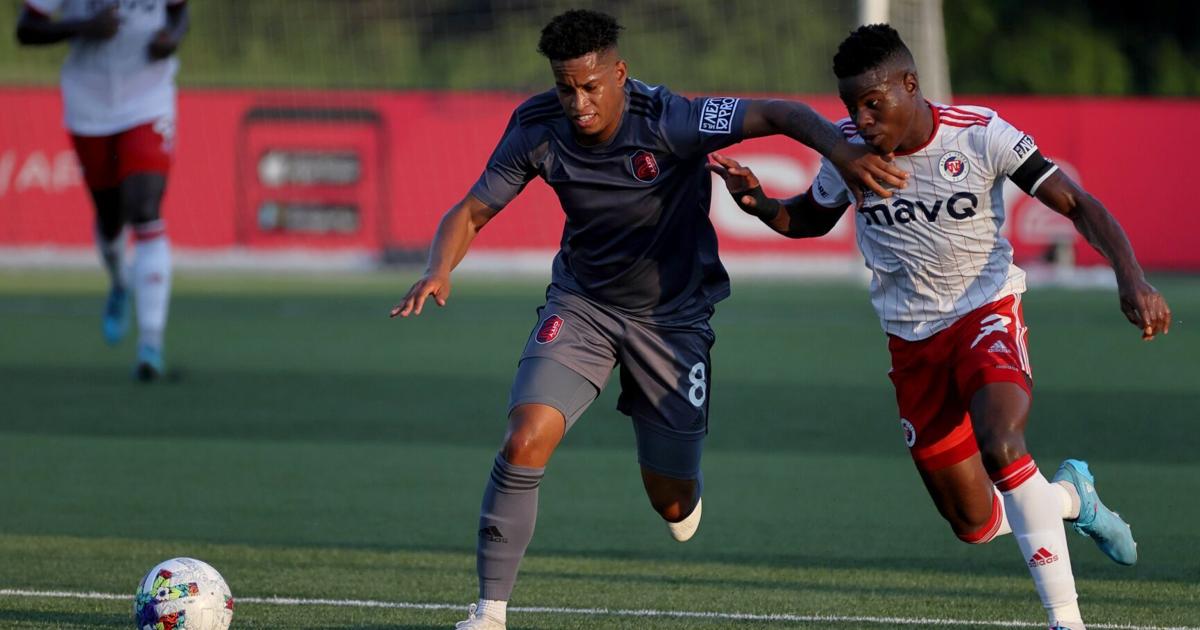 Akil Watts stood out when he signed for City2 | moved St. Louis CITY SC
Ask St. Louis City2 player Akil Watts what his best position is and he will tell you that, in football shorthand, it's a 6, a midfielder holding the position. Ask him what positions he's played in this season and the answer isn't quite as short.
"Right back, left back," he said, accelerating, "Center back, right center back, 6, right center."
That gives you an idea of ​​what made Watts such a valuable player for City2, which sits a point clear of first place in MLS Next Pro's Western Conference and takes on conference leader Tacoma on the road on Saturday.
"Wherever we've put him, he's done really well," said City2 manager John Hackworth, who first saw Watts play when he was 14 and has coached him with three different teams, "and he's come through the season getting better and better. So I'm just happy for him. Sometimes this versatility means you never nail a point. But I'm glad he's been successful everywhere we've taken him."
Watts grew up attacking and then switched to midfield when he went to residency camp with the youth national team. Then one day Hackworth, the US U17 coach at the time, came up to Watts and asked him: "Can you play back right away?"
"I've never played it," he said, "and I was like, 'I can try.' Stuck there ever since."
"I'm the bad guy that took him from midfield to full-back," Hackworth said, "but just to give myself a little credit, he put together a World Cup team and we went into the quarter-finals of that World Cup, and he started that quarter-final game at the World Cup right back so I think he probably had some good experiences there."
It was his game at the 2017 U-17 World Cup that caught the attention of Spanish club Mallorca, who signed him and used him as a right-back in their youth squad and senior squad.
"It took him to Europe," Hackworth said, "so he's certainly a player who has the ability to play in different places and who's had a lot of success."
At home in midfield
Watts has played in a different position in each of City2's first three games and lately has spent most (but not all) playing in midfield, where he feels most comfortable.
"I like touching the ball," he said. "I like to get involved and I do a lot. I like the flow and it's my favorite position because I can do it."
But while his position can change, his game doesn't. He plays the same way whether he's playing in defense or midfield.
"I try to just play my style and that means getting the ball and moving it," he said. "Don't want to think about it too much. Just do my best."
"I know what he thinks is his best position," Hackworth said. "He thinks his best position is as a midfielder. I've coached him since he was 15 and I've told him many times that I think he can be a full-back in MLS. And he proved that.
"He has that composure about him where he can also play under pressure. But he has the ability to slow it down in his head and he does that everywhere he plays which is why he was really successful for us.
On road
Watts is only 22 but he's seen a lot of places and played a lot of football.
He was 15 when he left Fort Wayne, Indiana to join US Soccer's residency camp and was part of the US team that played at the 2017 U17 World Cup in India, beating England 4-1 in the quarterfinals lost. (St. Louisan's Josh Sargent had the US goal.)
From there, Watts went to Spain and played for Mallorca. After 1½ seasons there, he became homesick and returned to America, playing again for Hackworth in Louisville City in the USL championship. He played there for three seasons and then moved to City2, which he considered a gateway to Major League Soccer.
"I feel like this is the right move for me," he said. "Either it was here or I tried my luck overseas and you never know how that can go. But I felt like I could really express myself here."
Ask City sporting director Lutz Pfannenstiel what Watts' best position is and his answer could be anything.
"That's actually a very good question," he said, "because he's such a versatile player. He can play 6, can play central defender, can play left or right defender. That's a big advantage for us at MLS Next Pro. We can use him in different positions; that makes him a very important player for us."
And it could be important for Watts in the future. City have currently signed seven international players for the first-team and City2 captain Josh Yaro has been identified as a player who will be in his first-team debut next season. Pfannenstiel said it was time to shift its focus to American players in MLS as well as players in MLS Next Pro.
"There's really young, exciting talent out there that definitely has the quality or development to play MLS," said Pfannenstiel. "Not only always looking beyond our limits, but also looking very, very closely at every single player in our MLS Next Pro, every game and every training session, that's also a very logical step for us to give young players the opportunity to have already shown a fair chance here to play professional football in MLS."
So the best position for Watts, whose first name comes from an Arabic word meaning 'one who uses reason', is the one that puts him on the field.
"I'll play it," he said. "No questions asked."